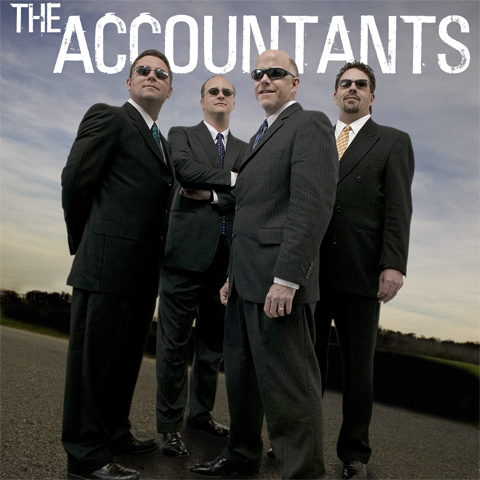 (left to right)
| | |
| --- | --- |
| Pound... | Director of Thump & Whoop Yer Assets |
| Peter Duncan... | Chief Guitar Officer |
| Ben Graves... | Chairman of the Bass & Keys to the Executive Washroom |
| Sid Luscious... | Out of Controller |
At the end of the working day, ties are loosened and collars unbuttoned. Wives gets kissed, kids get hugged. A potent libation may be consumed. Then the guitar straps are fastened and the amps are cranked. Welcome to the world of The Accountants. Hey, they're just Keepin' Up with the Joneses.
These newest ear X-tacy® label artists are a novel concept, to be sure, but don't make the mistake of calling them a novelty act. These guys rock with intensity and purpose. How many other bands have written their own manifesto?
As the name suggests, the members of The Accountants are business professionals by day and rockers by night. Their original songs – with titles like "Slacker" and "Fraud & Conspiracy," along with innovative, inspired covers of tunes like "Taxman" and "Takin' Care Of Business" – reflect the frustrations of working professionals, and poke fun at the corporate excess and ethical ambiguity they hold largely responsible for the current economy and recent corporate scandals.
The Accountants ' Initial Public Offering, Corporate Punks Amuck (MIXworks) garnered significant local exposure on both commercial and public radio in their hometown of Louisville, Kentucky, including several appearances on Clear Channel powerhouse WHAS-AM and a coveted "Live Lunch" broadcast performance on WFPK-FM. The band also received national attention via Public Radio International's Marketplace program as a result of their song "Amnesty," written especially for a Louisville Metro Government tax amnesty campaign.